2022-2027 Bond Project: Carver Branch Library Renovation
The Project will renovate, improve and expand the Carver Branch Library.
Project Type: Libraries & Cultural Facilities
Status: Design Phase
Project Budget: $12,500,000
Estimated Construction Timeline: Fall 2025-Spring 2027
Project Contact: Evelyn Gamez, 210-207-1454 / [email protected]
NOTE TO BUSINESS OWNERS:
If your business is currently or expected to experience construction in your area please visit the City of San Antonio's Construction Toolkit. This guide helps business owners understand and prepare for City-initiated construction projects.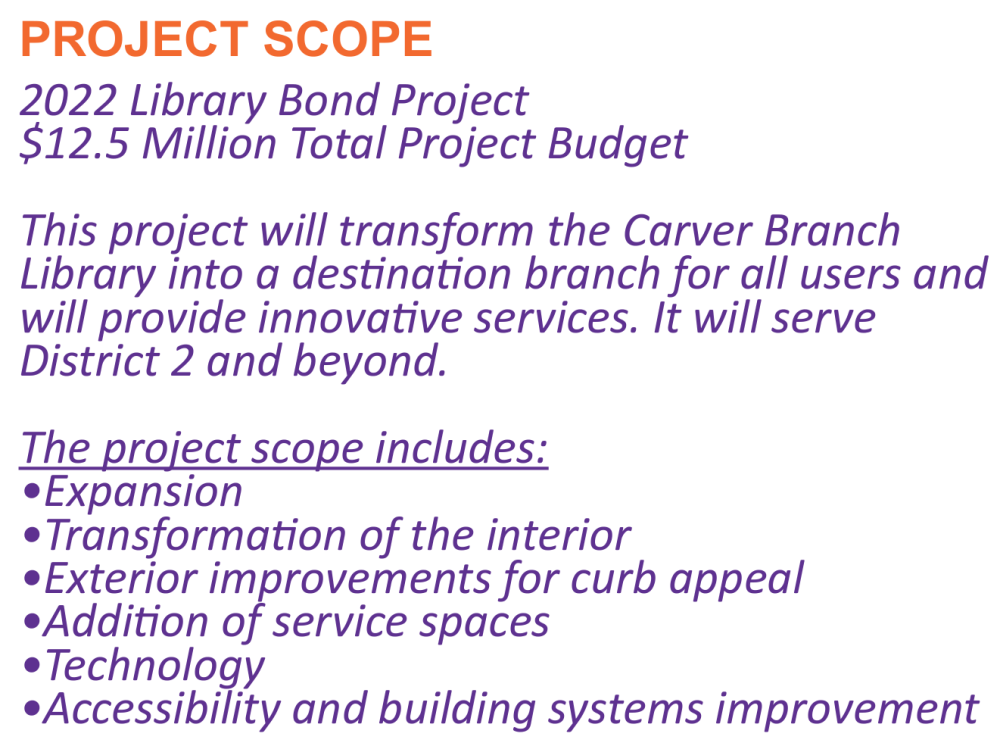 We invite you to provide input for the Carver Branch Library Renovation Bond Project!
The Carver Library Survey will provide you with the opportunity to share your input for consideration as we work to enhance this facility that has served the community for decades. Versions of the survey can be accessed through the navigation tabs above.
Your opportunity to provide feedback via the Carver Branch Library Survey will conclude on Dec. 13, 2023.
*If you attened the public meeting on Nov. 8, 2023 and provided written feedback on the physical placemats, please note this when submitting additional responses on this project page*
---
City of San Antonio Survey
PROJECT PRESENTATION DOCUMENTS