2022-2027 Bond Project: Bulverde Phase II (Green Spring Dr. to Redland Rd.)
The project includes the construction of roadway improvements to include sidewalks, curbs, driveway approaches, drainage, bicycle facilities, and other improvements as applicable and within available funding. This is a multi-phased project.
Project Type: Streets
Status: Design Phase
Project Budget: $13 million
Estimated Construction Timeline: Winter 2025 - Summer 2027
Project Manager: Sean Strong, 210-207-8037
Capital Project Officer: Richard Casiano Sr., 210-207-8218
NOTE TO BUSINESS OWNERS:
If your business is currently or expected to experience construction in your area please visit the City of San Antonio's Construction Toolkit. This guide helps business owners understand and prepare for City-initiated construction projects.
---
PROPOSED IMPROVEMENTS:
Four-lane roadway
Center turn lane
New roadway striping
6-foot sidewalk
10-foot shared-use path
Drainage Improvements
Utility adjustments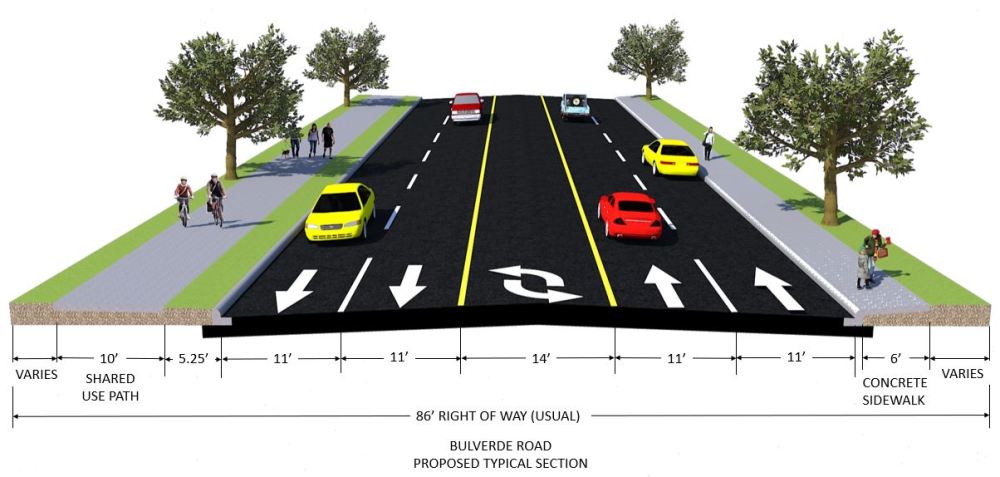 City of San Antonio Survey
PROJECT PRESENTATION DOCUMENTS
2022 - 2027 Bond: Bulverde Phase II - Design Public Meeting
15651 Bulverde Rd, San Antonio, TX 78247, USA
Map
Join Public Works and Council District 10 to review design plans for Bulverde Phase II (Green Spring Drive to Redland Road).